Introduction
The oldest division of Dalal is the Chemicals Division. The products in the Chemical Division range from Rotary Vacuum Dryers to Wiped Film Evaporators.
Wiped Film Evaporator
Introduction
The Wiped Film Evaporator is used for concentration, distilling, stripping, dehydration and deodorisation of products which are heat sensitive or viscous. The equipment can handle a very wide range of feed compositions ranging from 1% to over 95% concentration. WFE has several advantages as stated in the table below. The operation is continuous with a single pass; the self cleaning continuous contact wipers produce and renew the thin film. Such an operation improves product yield, avoids residue and colour formation. It has an internal condenser (optional) that minimizes the pressure drop and maintains vacuum.
Working Principle
The operation process in the WFE is simple but yet effective. Feed is introduced at the top of the unit and spread on the shell inner surface by the rotating distribution plate. Specially designed wipers wipe the feed thus creating and renewing the film. This thin film enables an efficient heat transfer even for highly viscous fluids. The low boiling component evaporates and passes through an entrainment separator. This minimizes the carry over of liquid droplets along with the vapors. The vapors are removed through the vapor line to an external condenser (optional) and condensed. For specific applications which demand low pressure drop, the central section of the evaporator is provided with a condenser, thus making the unit a short path/molecular distillation unit. In this case, the vapors are allowed to condense on the outside of the tube bundle and flow out of the vaporator via the condensate outlet provided at the centre.

The high boiling component flows along the shell wall and is discharged from the product outlet. Wiper action is important in promoting downward flow. The product/concentrate should be in fluid form at the operating temperature. Different designs of rotors are available depending upon the product, its viscosity and the process pressure.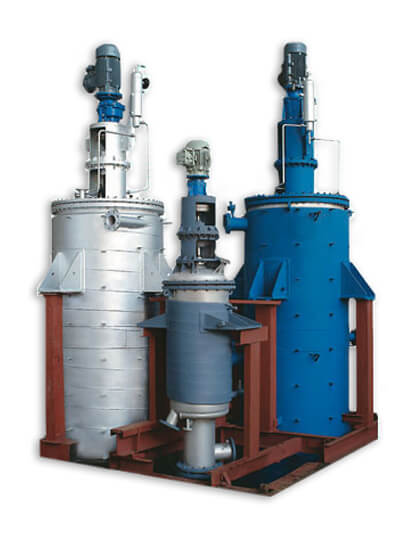 Manufactured 20 m2 WFE
Set up process to recover base oil from used lube oil & sold WFE of size 5 & 10 m²
Made a success of WFE for concentration of oleoresin to low PPM levels of solvents in the Concentrate
Exported 10 WFEs for Reclaiming Used Lube Oil
Manufactured WFE in 904L, Hastelloy, C276, C22.
Advantages
Evaporation at low operating temperature
Short residence time (few seconds)
High heat transfer coefficients
Low pressure drop on vapor side
No degradation or loss of active ingredients
Self cleaning\wiping of the heat transfer surface
Suitable for viscous liquids
Continuous operation
Low maintenance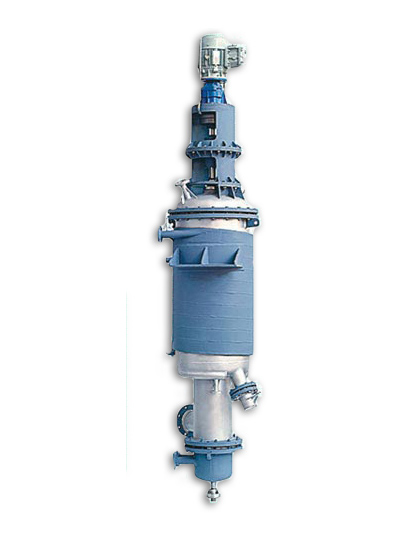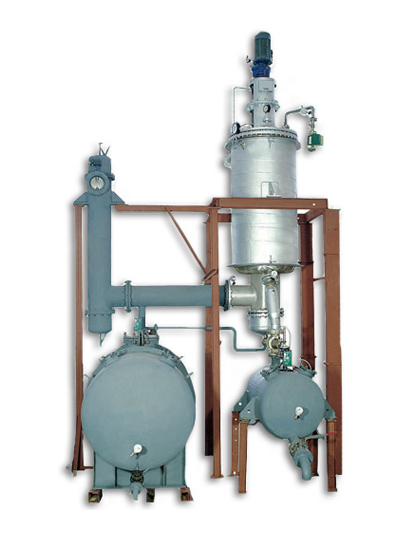 Features
Low rotational speed
No bottom bearing
Higher power to take care of feed fluctuations
Chevron rotor with interchangeable panels for ease of cleaning
Double groove gasket for high vacuum WFE
Conical bottom with auger
Top vapour outlet/li>
Large internal condenser
Swing / Hinge wiper blades
Open rotor (no entrainment separator)
Falling Film Evaporator
A Falling Film Evaporator is used for concentration and evaporation of relatively low viscosity liquids. Steam, hot water or hot oil is used as the heating media and the process is carried out under atmospheric or vacuum condition. The Evaporator is used for volume reduction where dilute products are concentrated to a medium concentration. The process is continuous. The liquid to be concentrated is fed from the top and a distributor ensures proper feed distribution in each of the tubes. The distributor also ensures that all tubes are wetted and that the liquid flows in a film. The liquid and vapour both travel vertically downward. Due to a relatively thin film, the heat transfer coefficient is better than that obtained in reactors and simple shell and tube evaporators. If further concentration is required, the concentrated product can then be fed to the WFE.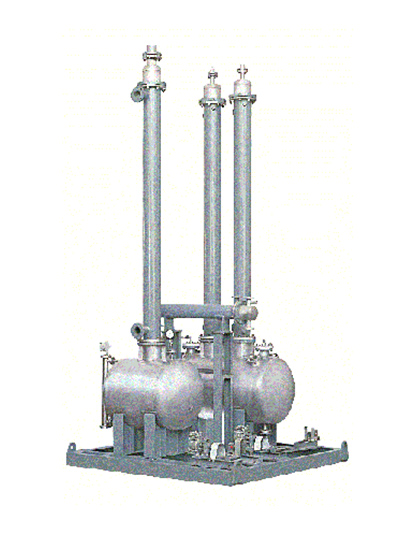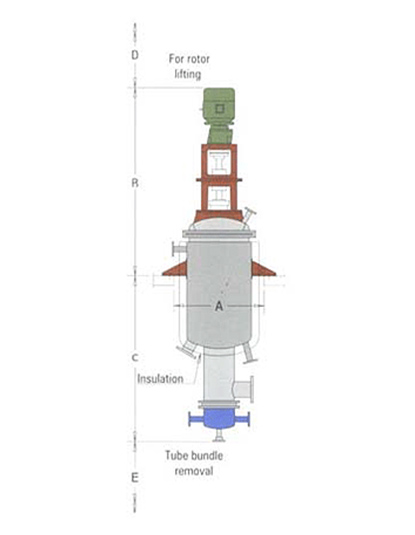 Total Solutions
Dalal Engineering supplies complete systems consisting of one or more wiped film evaporators, falling film evaporators, auxiliary condensers, sub-coolers, receivers for residue and concentrate, vent condenser, vacuum system, interconnecting piping with instrumentation, valves etc.

A prototype Wiped Film Evaporator system is available at its Thane factory where trials can be conducted to determine feasibility and equipment with guaranteed performance can be offered.
Technical Specifications
Evaporator area m2
0.45
1.0
2.0
3.0
5.0
7.5
12.0
20.0
A (Square Cut-Out)
660
1010
1010
1320
1320
1320
1650
1895
B
1190
1710
1760
1800
1885
2249
2604
3360
C
616
1295
1770
1460
2205
2877
3590
5155
D
480
900
1200
1130
1190
2600
3000
2050
E
600
1000
1900
1690
2100
3000
3625
4000
Other sizes available as per requirement. Internal condenser optional.
Introduction
Rotary vacuum dryers offer clean, simple and effective method of drying wet cake, powder and even slurry. Labor and energy costs are minimal compared to tray dryers and product losses during handling are also negligible. Additionally valuable organic solvents can be conveniently condensed and recovered.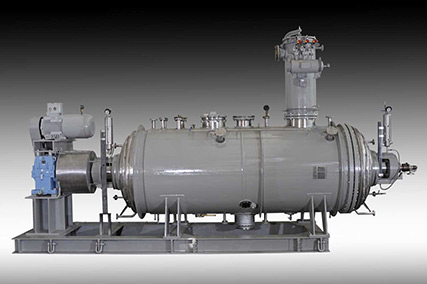 Working Principle
The drying in a rotary vacuum dryer is a batch operation under vacuum. It is possible to dry heat sensitive materials at well below boiling points of water and solvents. Drying time depends on material being dried, amount of solvent or water to be removed, desired final moisture content, permissible jacket temperature etc. The dryer is available in sizes ranging from 100 liters to 20,000 liters gross volume. The volume of wet material loaded into the dryer is usually restricted to 40-45% of gross volume.
Salient Features
Equipped with different designs of agitators depending on the material to be dried.
Unique quick opening discharge valve permits direct packing of dry product into bags or drums.
Breaker rods are provided to prevent lump formation and allow quick and complete drying.
Shaft sealing by mechanical seals is also available.
N2 pulse jet dust filter (self cleaning type).
Sampling value sizes range from 100 LT. to 1600 LT. gross volume.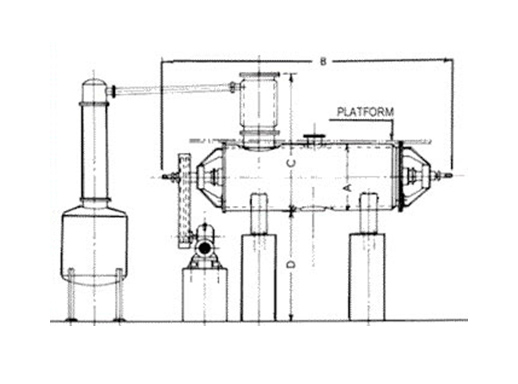 Supertor
Introduction
Supertor is a high shear pump like machine to handle Liquids & Slurries. It has saw tooth construction Stator & Rotor arrangement. This creates strong turbulence which can be used for achieving - Homogenizing, Grinding, Crushing, Delumping, Dissolution, Maceration, etc.
Working Principle
The Supertor can crush, grind, homogenize & pump. An angular disc rotates in a cylindrical housing. Notched teeth in the Rotor disc meshes with teeth of Stator to effect disintegration & crushing - thus resulting movement generates thrust & shear stress causing acceleration of medium in both – axial & radial direction, resulting in intense mixing with pumping of the medium.
Mixing Fluids of various viscosities
Dispensing of pigments to produce colour
Rapid homogenisation and slurry formation from wet cake
Processing of pulp and black liquor in the paper Industry
Mixing & crushing of liquid and paste like waste materials
Surface enlargement through reduction in grain size for the dissolving process to reduce the dissolving time
Crushing of coke particles in thick tar in coking plant ancillaries

Increasing productivity and through put of spray dryers
Efficient and rapid washing of filter cakes, also increasing reaction rate
Waste cut treatment in the manufacture of fibre cement
Diverse extractions for manufacturing essences
Mixing & homogenising of spice extracts
Prevention of choking and clogging of pipelines
Clay & Silica application
Starch manufacture
Rapid dissolution of difficult to dissolve solids
Maceration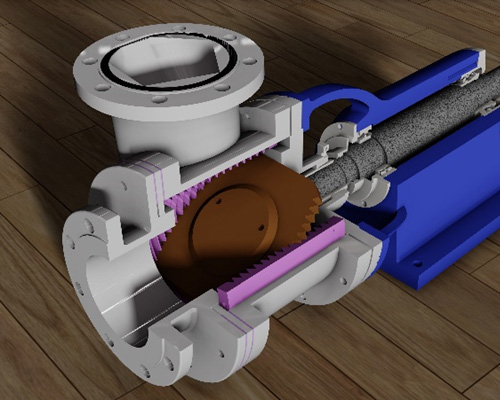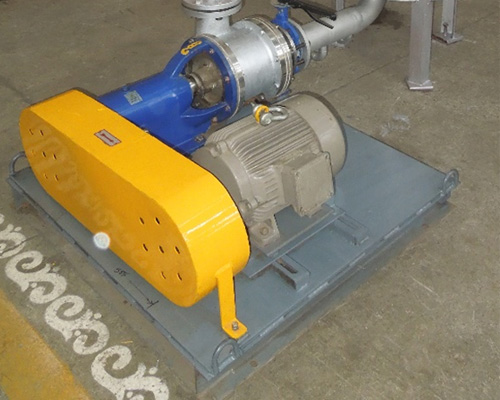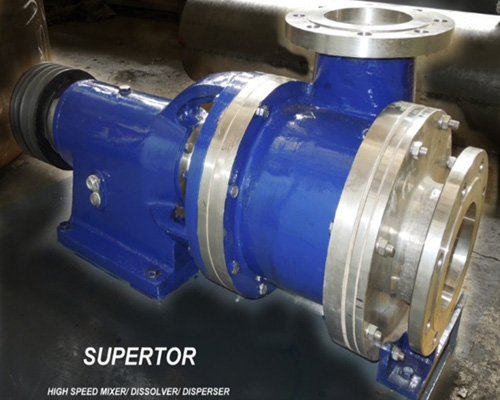 Dimensions
Size
Suction
Discharge
L
W
H
22
100
100
1000
1020
497
25
150
150
1120
1250
572
Introduction
Drum flakers (also known as cooling drums) are used for solidifying molten material. After Flaking operation, the material forms Flakes a form easily handled and is further processed or packed into containers for transport.

A great advantage of flakers is that they offer a continuous process.
Working Principle
The Cooling Drum dips in pool of Molten liquid in Trough (direct immersion), or indirect immersion using doctor/applicator rolls. The molten liquid is cooled on the outer surface of cooling drum and after a partial revolution; the cooled and solidified product is removed by a scraper in the form of flakes. The cooling drum of the flaker is specially designed to provide an even cooling effect by having uniform and effective internal distribution of media. As a result, both high output and uniform flakes are produced.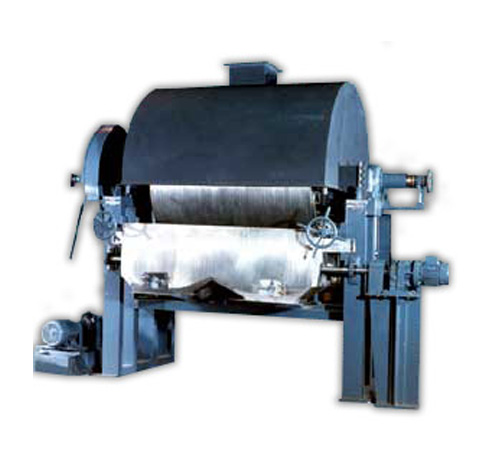 Salient Features
Variable speed drive arrangement for adjustment of the drum speed for optimum performance.
Suitable for a wide range of chemical and pharmaceutical products.
Contact parts can be stainless steel, carbon steel, and hard chrome plated depending on material requirements.
GMP design
Flake Thickness Control
Drum Water Cooling – Spray Type Arrangement with Siphon Assist Compressed Air
Type of Enclosure – Simple Canopy, Fully Closed Type, suitable for Gas Purging, etc
Blade Movement – Hand Wheel, Geared Hand Wheel, Pneumatic Operated
Chute – Multi Bagging Points, Screw Conveyor
Instruments – Temperature Measurements, Trough Level, Water Flow Measurement, Others
Drum Speed Variation – Mechanical Type & Variable Frequency Drive
Customization as per Design Needs
Tilting Trough to facilitate easy cleaning while change of Product
Low Hold up trough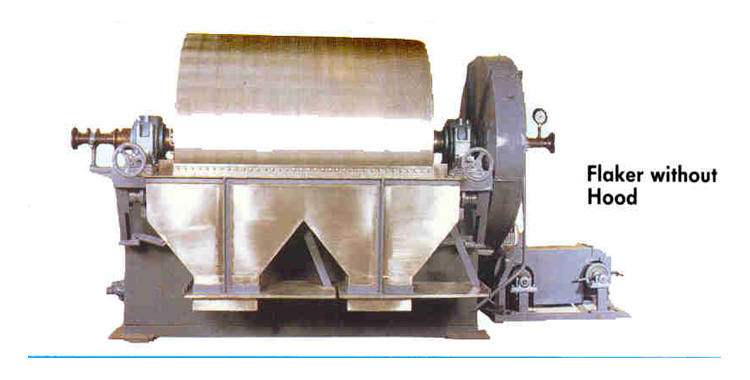 Vibro Energy Seperators
Introduction
Vibro Energy Seperators are used for screening and grading of dry powders and screening of slurries. The machine is a proven performer for applications as diverse as abrasives, ceramic powders and slurries, chemicals, pharmaceuticals, powder coatings and slurries, minerals, metal powders, and food products.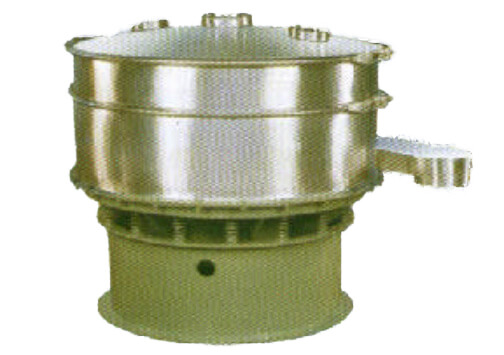 Working Principle
The machine is a rigid screening device that vibrates about its center of mass. Vibration is achieved by mounting eccentric weights on the top and bottom of a special heavy-duty motor with extended shafts on both its ends. Vibration can be varied by addition or removal of auxiliary weights and by changing the angle between the top and bottom eccentric weights. This allows control of amplitude as well as material flow patterns.
Salient Features
Low power, space and maintenance requirements
High separation efficiency
Separation achieved using meshes as fine as 500 mesh
Multi-deck arrangements with up to 7decks for special applications
Technical Specifications
Size
Motor
HP/KW
A
(mm)
B
(mm)
C
(mm)
D
(mm)
E
(mm)
F
(mm)
G
(mm)
H
(mm)
I
(mm)
J
(mm)
48 cms
0.25/0.186
495
450
695
580
810
1000
1130
100
554
360
66 cms
1/0.75
673
600
875
745
1005
1160
1245
127
740
482
80 cms
1/0.75
813
510
802
665
939
1100
1210
150
898
582
120 cms
2/1.5
952
520
872
705
1040
1233
1343
152
1195
730
150 cms
2/1.5
1105
535
885
710
1075
1265
1375
203
1502
927
A prototype system is available at its Thane Factory where trials can be conducted to determine feasibility, and equipment with guaranteed performance can be offered.
LAB SET UP
Wiped Film Evaporator
Size
M.O.C
Qty. Required For Trial
Qty. Of Tamples Required For Testing
Pressure Rating
Remarks
0.45 m²
SS-316
50 to 100 litres
200 Ltrs.
Shell- Full vacuum Jacket – 6 kg/cm²g (steam)
Typical throughput for aqueous material is about 60 to 100 kg/hr.
Parameters Vacuum – water Ring vacuum pump at approx. 700 mm Hg. Piston Pump with Booster – 0.5 mm Hg A.
Hot Media – Steam Heating – 100 to 180 ºC or Hot Oil Heating range 100 to 320 ºC
Cooling Media – Cooling Tower Water
ATFD
Size
M.O.C
Qty. Required For Trial
Qty. Of Tamples Required For Testing
Pressure Rating
Remarks
0.5m²
SS-316
30 – 50 ltr/hr.
200 Ltrs.
Shell- Full vacuum Jacket – 6 kg/cm²g (steam)
Typical throughput for aqueous material is about 30 to 60 kg/hr.
Vibro Energy Seperators
Size
M.O.C
Qty. Required For Trial
Qty. Of Tamples Required For Testing
Pressure Rating
Remarks
19" dia
SS-304
30 lit
20 to 50 kgs
Meshes from 1/2" to 350 available.
Throughput is in the region of 50 to 100 kg/hr depending upon particle size distribution.
Utilities
Steam
Boiler : 200 kg / hr, 6 kg / cm2g
Hot water
Hot water circulation system is available with appropriate pump and temperature control.
Thermopack
Suitable for, 320°C.
Vacuum
a) 100 m²/hr. double stage water ring vacuum pump with air jet booster.
b) 100 m3/hr oil seal vacuum pump.
c) 125 m3/hr Rotary piston pump.
d) 1000 m3/hr Booster roots blower.
Cooling water
a) Water at ambient temperature from cooling tower.
b) We can arrange chilled water circulation between 8 to 12° C for condensation of lower boiling materials.