Introduction
Over the years we've handled the smallest watch parts to the most complex aviation components; the thinnest of valve reeds to the largest and roughest of engineering components, bringing a shine to hundreds of varied surfaces (and a smile to every manager's face!). Each time a new customer comes to us, we study and understand, we consult our database of over 25,000 diverse case studies, we conduct trials and research in our advanced R & D lab, and devise a tailor made solution for you.
User & Industries
Our team of application engineers located across top 10 industrialized cities ensures speedy assistance. So whether it's a spare part you need or an entirely new machine, whether you require a mere replenishment of your media and chemicals or a solution to a process application problem, we are always there for you.
Major User Industries
| | | |
| --- | --- | --- |
| Aircraft Components | Aluminium Extrusion and Die Casting | Ammunition  Parts |
| Automobile Components | Bearing Cages, Cases and Rollers | Bicycle Parts |
| Brass Casting and Hardware | Buckles, Bags and Shoe Fittings | Ceramic Components |
| Clutch Plates | Compressor Components | Cutlery |
| Diesel Generator Components | Gas Regulator Components | Gold, Silver and Imitation Jewellery |
| Hand  Tool and Forging | Hardware | Home Decor Items such as Bathroom Fittings, Railings |
| Light and Lamp Fittings | Lock Parts and Components | Piston Rings and Brake Parts |
| Plastic Components | Platinum Parts | Pressed Components |
| Sintered Components | Spectacle Frames and Components | Surgical and Orthopedic Implants |
| Switchgear Fittings | Turbine Blades | Watch Parts. |
Applications
| | | |
| --- | --- | --- |
| Antique Finishing | Burnishing | Cleaning |
| Deburring | Decarborising | Deflashing |
| Degreasing | Derusting | Descaling |
| File mark removal | High gloss finishing | Matt finishing |
| Mirror finishing | Polishing | Preanodize finishing |
| Preplate finishing | Prepowder coat finishing | Ra/Rz value improvement |
| Radiusing | Smoothening | Surface finishing |
WHAT WORKS BEST?
comparison of Finishing Machines
Equipment in order of decreasing cycle time
Tumbling Barrel
Advantages
Low Capital Cost
Low running cost
Can use for dry process.
Limitations
Long process cycle.
Chances of components damage.
Noisy operation.
In process inspection not possible.
Separation of parts from media is cumbersome.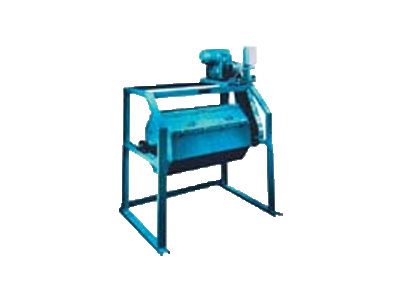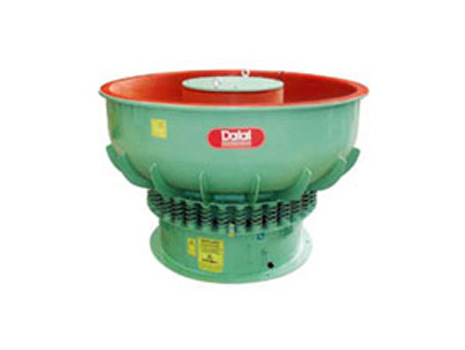 Vibratory Finishing Machine
Advantages
Faster processing than hexagonal barrel.
Can handle vary small to medium size parts.
In-Process Inspection
Inbuilt media to parts separation possible.
Economical for general purpose work, heavy deburring, continuous processing, and continuous inspection.
Full automation Possible.
Batch or continuous operation.
Limitations
Cannot handle very long parts
Noisy unless Sound Cover is provided.
Tub Finishing Machine
Advantages
Faster processing than hexagonal barrel.
Can handle small to very large and very long parts.
In-Process Inspection
Dividers for part to avoid impergment.
Batch or continuous operation.
Limitations
Noisy unless sound cover provided.
External material handling generally required for large parts.
High capital cost.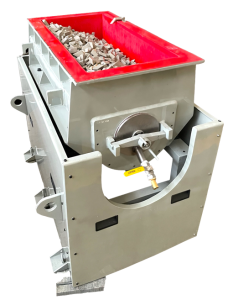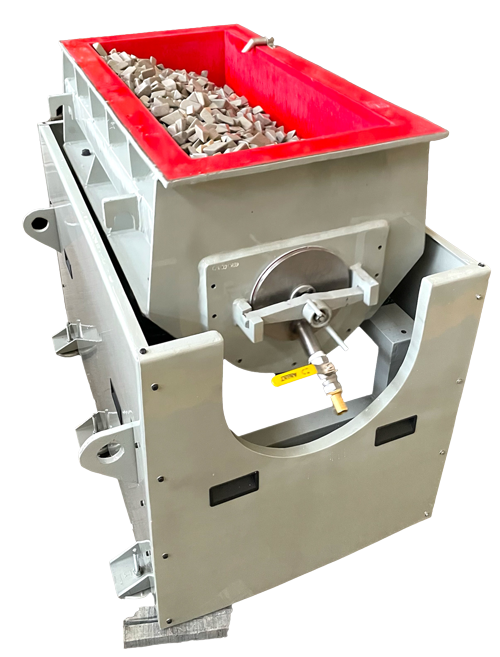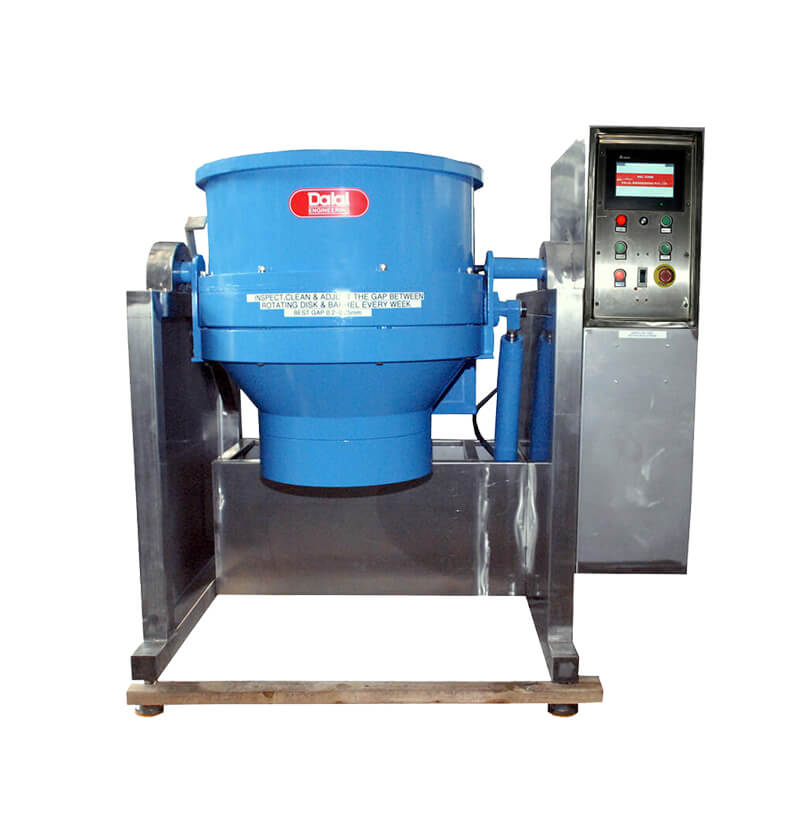 Disc Finishing Machine
Advantages
Process time significantly less than Vibratory Finishing Machine.
Superior Finishes
In-Process inspection
Automation Possible
Versatile, can handle fine finishing to heavy stock removal.
Can handle precision and thin parts.
Limitations
Suitable for very small parts only.
Higher Media wear rate.
High maintenance cost.
Centrifugal Finishing Machine
Advantages
Process time significantly less than Vibratory & also Disc Finishing Machine.
Finishing better than Vibratory & Disc Finishing Machine.
Can handle precision and thin parts.
Versatile - can handle fine finishing to heavy stock removal.
Limitations
Suitable for small parts only.
No in-process inspection.
Loading & Unloading is time consuming and laborious.
Cannot handle very long parts.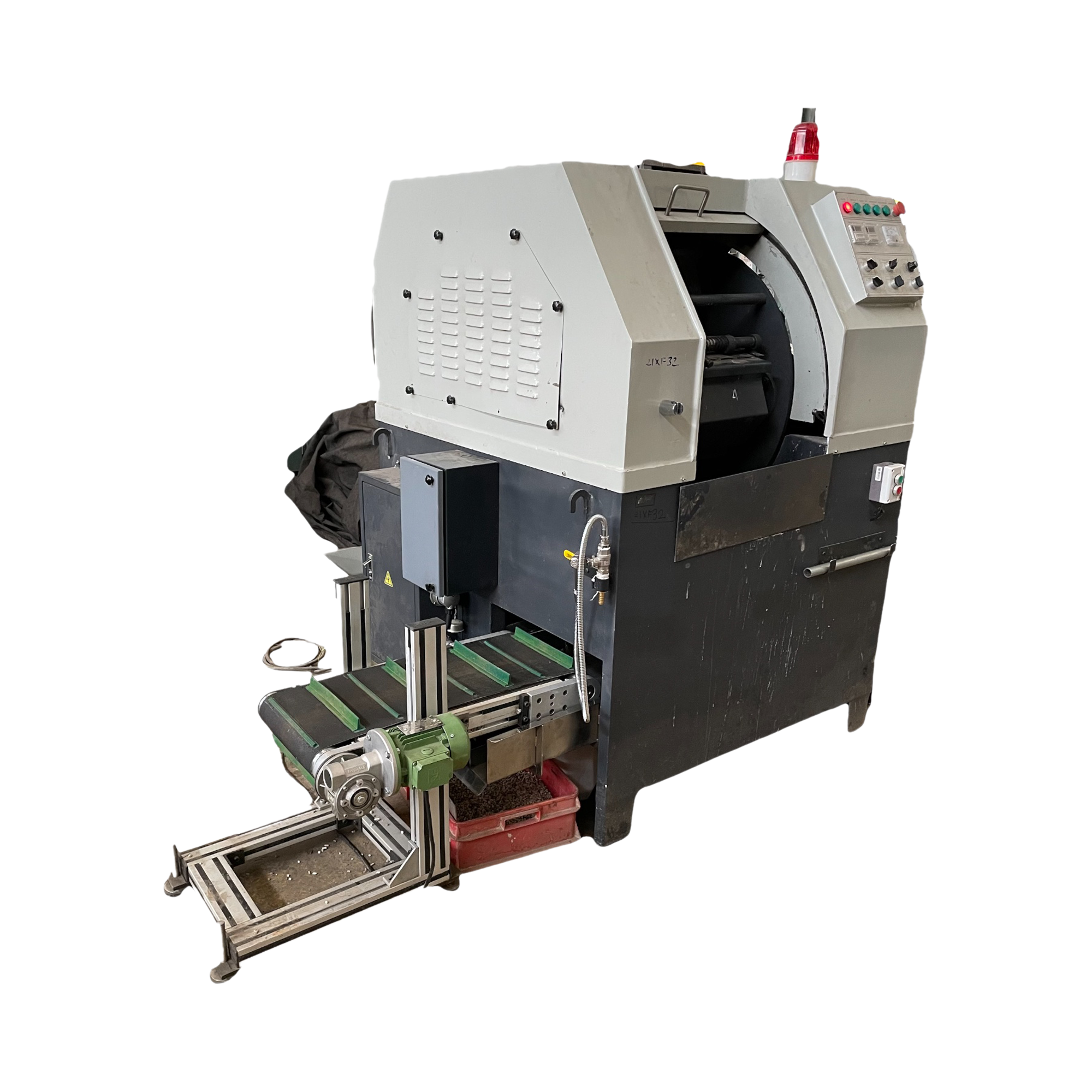 Finishing Machine
Introduction
Vibratory Finishing Machines are mass finishing machines, used for deburring, polishing, descaling, and surface improvement on metal and plastic components.
Working Principle
The machine has a steel bowl lined with rubber or polyurethane which is filled up with required media (either ceramic, plastic, maize etc. depending upon the finish required) and components. Eccentric weights are mounted on an extended shaft attached to a heavy duty motor to cause vibrations and create a spiral of the media and the components. Variations in vibration, achieved by varying weights and angles, and suitable combination of media enable machine to be used for different components.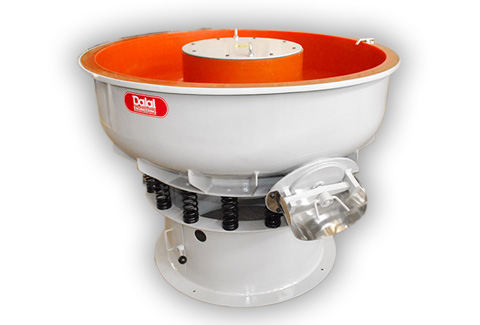 Standard Features:
Effective motor position for Superior Vibration.
High tensile nut bolts for longer machine life.
Efficient removal of process fluid for best surface finish.
Energy efficient motor.
Bowls shot blasted before and after Polyurethane lining for painting.
All internal welds ground smooth.
Anti rotation motor locking plate provided.
Bowls are stress relieved
Special Features:
Complete bowl lined with cast Polyurethane including separation area.
Complete Polyurethane dam flap to avoid metal contact instead of metal flap.
Polyurethane corrosion resistant paint for longer life and better aesthetic.
Easy opening media discharge plug for quick change media.
Advantages:
Can handle very small to large parts. Batch or continuous operation.
In-Process Inspection.
Integral separation.
Better media/parts mixing since it has cascade and circular action.
Economical for general purpose work, heavy deburring and continuous inspection.
Automation capability.
Batch
Machine without Separation
| | | | | | |
| --- | --- | --- | --- | --- | --- |
| Models | Total Volume (ltrs) | Process Volume (ltrs) | Ceramic Chip Capacity (kg) | O.D. (mm) | Bowl 'U' Width (mm) |
| VFM 30 L | 30 | 30 | 30-35 | 613 | 204 |
| VFM-90L | 90 | 90 | 90-110 | 855 | 256 |
| VFM-120L | 120 | 120 | 120 – 150 | 1020 | 262 |
| VFM-210L | 210 | 210 | 210 – 250 | 1220 | 280 |
| VFM-300L | 300 | 300 | 300 – 350 | 1347 | 342 |
| VFM-600L | 600 | 600 | 600-700 | 1606 | 430 |
| VFM-1200L | 1200 | 1200 | 1200-1400 | 2010 | 530 |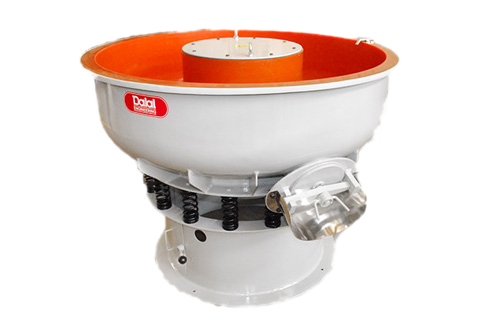 | | | | | | |
| --- | --- | --- | --- | --- | --- |
| Models | Total Volume (ltrs) | Process Volume (ltrs) | Ceramic Chip Capacity (kg) | O.D. (mm) | Bowl 'U' Width (mm) |
| VFM 150 LDR | 150 | 90 | 90-110 | 855 | 256 |
| VFM 200 LDR | 200 | 120 | 120 – 150 | 1020 | 262 |
| VFM 350 LDR | 350 | 210 | 210-250 | 1220 | 280 |
| VFM 500 LDR | 500 | 300 | 300-350 | 1347 | 342 |
| VFM 875 LDR | 875 | 600 | 600–700 | 1606 | 430 |
| VFM 1600 LDR | 1600 | 1200 | 1200-1400 | 2010 | 530 |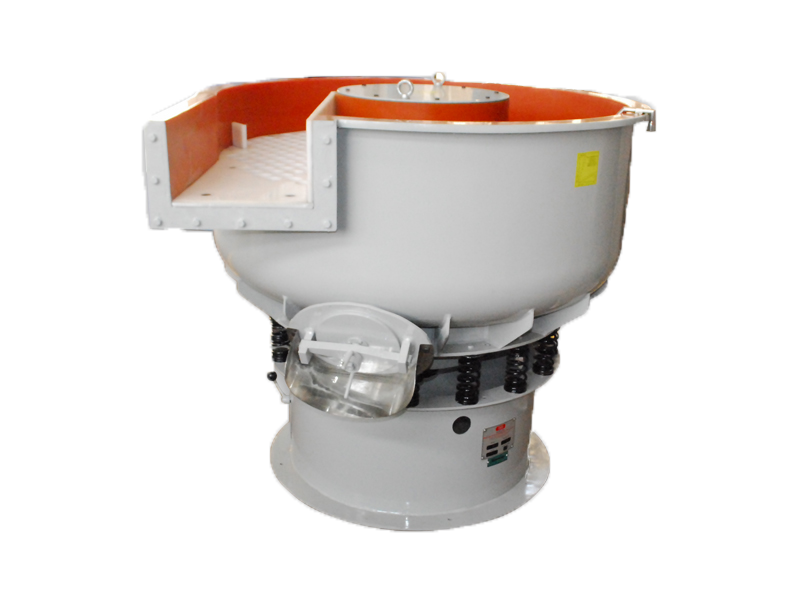 Centrifugal Finishing
Introduction
Centrifugal Finishing Machines are high 'G' force machines specifically developed for smaller components, and for those that require long process times in Vibratory Finishing machines. Smaller machines have removable barrels, while larger ones have fixed barrels with provision for barrel and turret inching. There are several options available -- straight barrels, inclined barrels, removable barrels (for small machines), variable speeds, media parts separators, inching arrangements, rubber/polyurethane linings, conveyors, etc.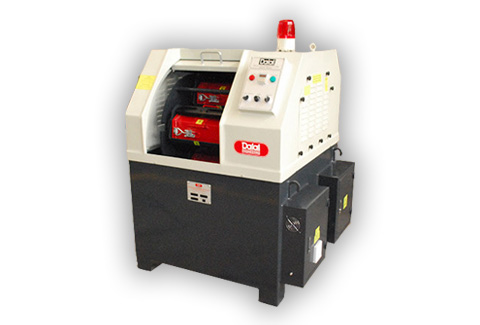 Centrifugal Finishing Machines
| | | |
| --- | --- | --- |
| Model | No. of Barrels | Floor Spacing (mm) (lxwxh) |
| CFM 30 (R) | 7.5 litres x 4 | 1150 x 1100 x 1550 |
| CFM 50 | 12.5 litres x 4 | 2910 x 1300 x 1900 |
| CFM 80 | 20 litres x 4 | 3270 x 1250 x 1830 |
| CFM 100 | 25 litres x 4 | 3330 x 1550 x 2150 |
| CFM 160 | 40 litres x 4 | 3950 x 2040 x 2400 |
| CFM 240 | 60 litres x 4 | 3950 x 2200 x 2800 |
Dalal In Association with Vibrochimica
Dalal Engineering has entered into an agreement with Italian specialists Vibrochimica, for manufacture of Centrifugal Disc Finishing and Rapid Ball Burnishing machines. Vibrochimica, founded in 1972, is one of the foremost European manufacturers of Vibratory Finishing Machines and Systems for the surface treatment and mass metal finishing markets. The company is located in Liscate, Italy near the Milan-Linate Airport. Their product range includes Round Bowl Machines, Tub Machines, Ball Burnishing Machines, Centrifugal Disc Finishing Machines, Vibratory Dryer, Through Feed Continuous Machines, Waste Water Treatment System and fully automated High Tech Installations.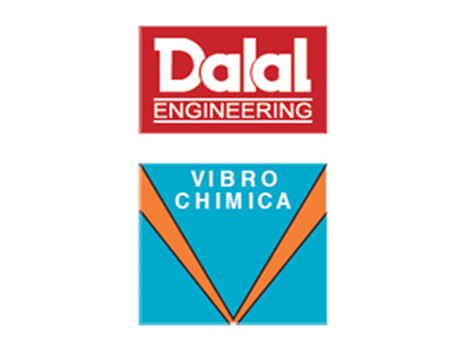 Introduction
Disc finishing machines are also high 'G' force machines which work faster due to the centrifugal force generated by a rotating disc.
The centrifugal disc machines are designed for optimum disc and chamber life with greater thickness of polyurethanein the high wear areas. A special sealing arrangement ensures a longer life of rotating disc and does not require frequent gap adjustment.
Discharge of the work mass can be done manually or by an automatic tilting arrangement.
The advantages of Disc Finishing over Centrifugal Finishing are the greater ease of loading and unloading and the possibility of In-process inspection of parts.
Process times are significantly lower than Vibratory Finishing Machines but somewhat more than Centrifugal Finishing Machines.
Disc Finishing Machines
| | | | |
| --- | --- | --- | --- |
| Model | Volume (Liters) | Voltage (V) | Floor Spacing (mm) L x W x H |
| DFM 10 | 10 | 220 | 600 x 700 x 1170 |
| DFM 20 | 20 | 220 | 680 x 850 x 1425 |
| DFM 40 | 40 | 415 | 880 x 780 x 1440 |
| DFM 80 | 80 | 415 | 1200 x 1000 x 1350 |
| DFM 150 | 150 | 415 | 1400 X 1200 X 1450 |
| DFM 240 | 240 | 415 | 2500 X 1500 X 1600 |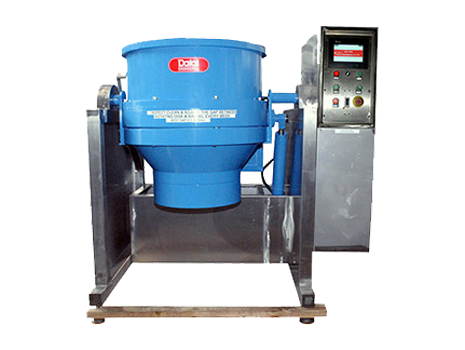 Rapid Ball Burnishing Machines
Introduction
Rapid Ball Burnishing machines are the best solution for polishing of components where there is need of a high production / short process time. These machines can work in batches for polishing of small and medium sized parts.

These machines have a high frequency technology where the total process times are between 10-20 minutes.

These machines work in batch for burnishing of ferrous & non ferrous components. They have a unique tilt separator inbuilt for 100% separation of parts within 2-4 minutes and further for the auto return of media back to the burnishing tub.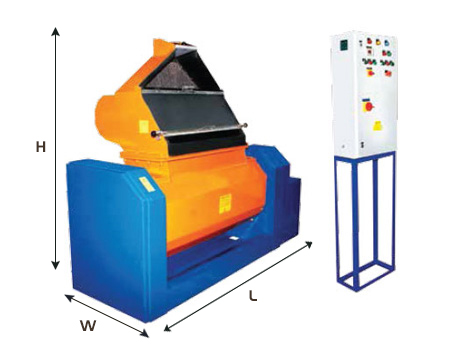 Model
Size
(L X W X H)
Description
VB 124
1550*605*1000
Manual Separation.
VBR 124
2130*1590*1890
Auto Separation.
Tub Vibro Finishing
Introduction
Vibratory Tub Finishing Machines have rectangular working bowl with either straight or curved side walls based on the application. The system cascades mixture of media and components in the Tub, producing relative movement between the two. This results in efficient processing of components. Vibration can be adjusted with eccentric weights and systems can be batch type,customized as per needs.
Features:
Suitable for large and long parts
Machine can be customized to suit parts
Continuous Machine can be offered
Divider plates for large heavy parts and moving parts to prevent contact
Advantages:
Faster processing than hexagonal barrel
Can handle small to very large and very long parts
In-Process Inspection
Batch or continuous operation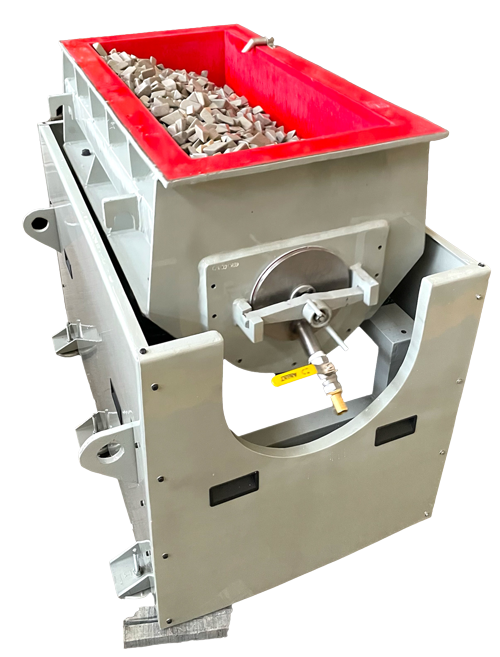 Technical Specifications
| | | | |
| --- | --- | --- | --- |
| Model | Total Volume(ltrs) | Length(mm) | Width(mm) |
| VTFM 50 | 50 | 640 | 305 |
| VTFM 300 | 300 | 1200 | 550 |
| VTFM 600 | 600 | 2700 | 465 |
| VTFM 900 | 900 | 3800 | 465 |
Magnetic Finishing Machine
Introduction
Dalal Magnetic finishing machine makes use of innovative magnetic field power to move the steel media rapidly. For deburring, polishing, descaling and cleaning of nonferrous parts.
Principle
The steel media, work pieces and the polishing chemical are put together in a container which is placed on the machine. A powerful magnetic field is generated which results in moving the magnetic steel pin media over the parts to achieve the designed results.
Special Features:
Excellent deburring and edge chamfering.
Good for irregular shaped parts, internal holes, etc.
No deformation, No surface damage.
No effect on accuracy of parts.
Long life steel media.
Easy to use.
Short process time 5 mins to 15 mins.
Able to work in difficult to access areas such as recess, slots and blind holes.
Application:
Deburring.
Polishing
Descaling
Derusting.
| | | |
| --- | --- | --- |
| Model | SIZES | MAX MASS WORK LOAD |
| MFM 830 | 425 X 550 X 1050 | 3 KG |
| MFM 840 | 525 X 650 X 1050 | 5 KG |
| MFM 850 | 660 X 800 X 1200 | 8 KG |
Vibro Dryers
Introduction
Dalal Vibro Dryers are designed for stain free drying and polishing of components, immediately after vibratory/centrifugal finishing.

Heated Maizorb/Corncob is used as the drying media. The rubbing action of the mass eliminates the calcareous residuals of the evaporated water deposited on the surface of the parts. The equipment is offered in, both, batch and continuous operations.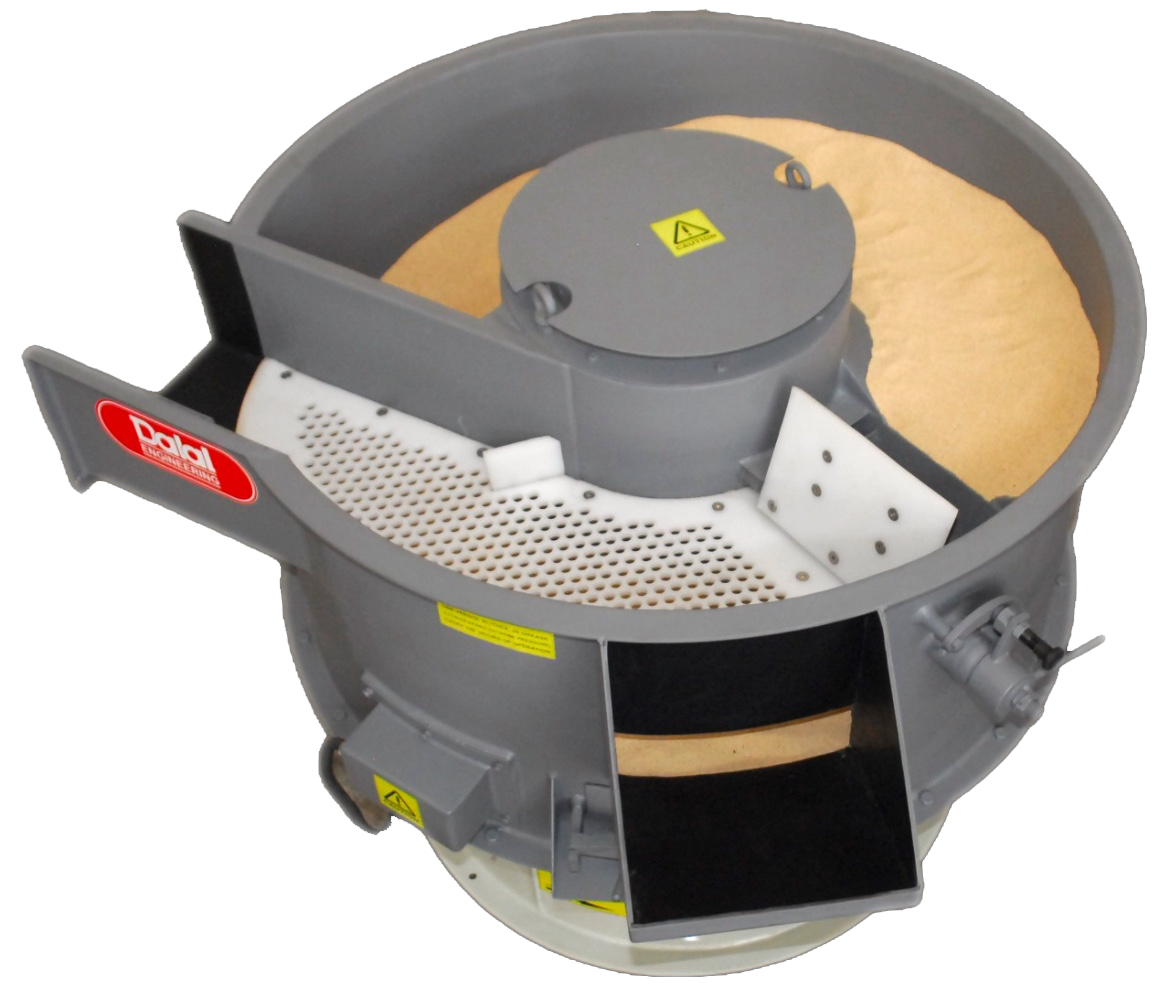 Special Features:
Continuous and re-circulatory operation can be automated and added to total system
Mobile, robust, fast and easy to install
Occupies lesser space
Adjustable vibration to suit production requirement
Advantages:
Can handle small to medium size parts.
In-Process Inspection possible.
Energy Efficient.
Excellent cascade to eliminate calcarious residuals of water.
Stain free drying
Occupies less space than other units of similar capacity and output
Technical Specifications
Model
Bowl Diameter

(mm)

Chamber Width

(mm)

Total Width

(mm)

VFMD 200
625
200
900
VFMD 350
1225
340
1075
VFMD 450
1560
460
1200
Automated Finishing Systems
Introduction
Mass finishing is becoming increasingly sophisticated in order to provide a high level of productivity, reliability and consistency of quality as demanded by industry.

Dalal Engineering with several decades of experience in mass finishing offers customdesigned Automated systems with integration of operations like loading, washing, chemical dosing, sound dampening, finishing, separation, drying and waste water treatment. The system can be controlled by PLC with detail process monitoring and controlling all aspects of the process.
Advantages of Automation in Finishing Systems
Increased Productivity
Consistent Output
Reduced Operational Cost
Reduced Manpower
Better Safety
Dalal Engineering offers automation with the use of latest technology to reduce the need of human work. Higher Productivity and higher output have been the major factors for the increasing demand of automation in the finishing process. Though many may claim that a human can achieve consistent finish using machines, there is definitely an increase in the consistency of finish after every batch with efficient automation.
A typical Automated Finishing System would consist of:
Auto loading of parts into machine
Sound dampening
Dosing Equipment to feed correct quantity of chemical during process
Control Panels to instruct the machine as per the processes set for finishing for a stipulated time
Vibrators/ Magnetic Separators for separation and/ or washing of parts
Conveyors for transfer
Waste water treatment system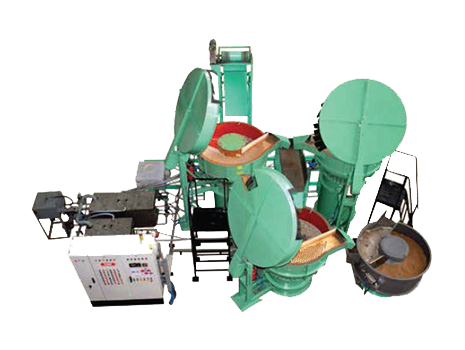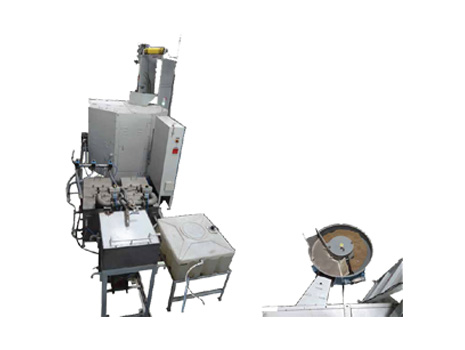 Automated Vibratory Finishing System
An Automated System with Vibratory Finishing Machine kept in a sound proof cabin integrated with Vibratory Dryer. The system is provided with auto loader, waste water recycling system, auto dosing unit and the whole process is controlled by PLC Control Panel.
Automated Disc Finishing System
An automated system consist of Centrifugal Disc Finishing Machine with auto tilting mechanism to unload the parts, component washing provision, broken media separator, magnetic separator with demagnetiser for 100% separation of parts and waste water filtration and recirculation system. The whole system is automatically operated.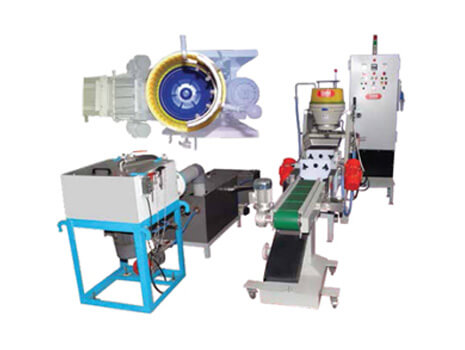 Machine Accessories
Waste Water Filtration and Recycling System
To increase the attention towards ecology and environment, Dalal has introduced a waste water filtration and recycling system. It is an automatic and economical water treatment system with easy application and without need for specialised manpower. The system consists of one sedimentation and one clean water tank. The dirty water is passed through a high speed filtration system for removal of suspended solids and then cleaned water is collected in clean water tank.
Less consumption of water and finishing compound
No choke up in drainage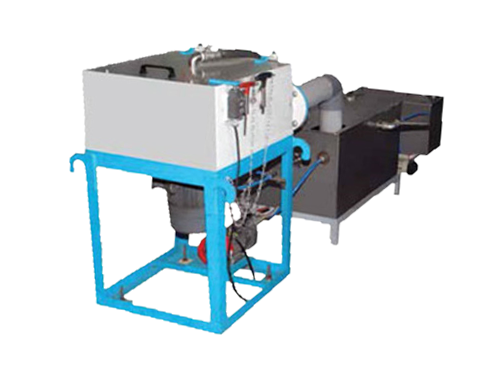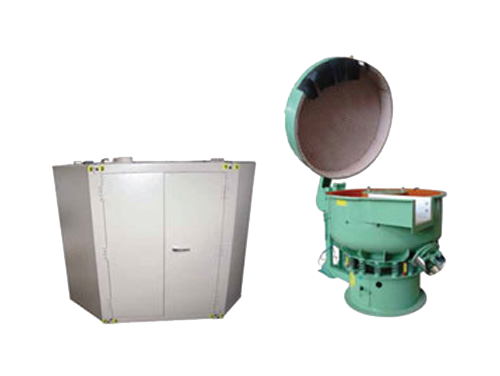 Sound Reduction Accessories
For workers safety and to meet factory sound norms, mass finishing equipment usually requires noise protection measures.

Sound Cover – Noise protection cover of single machine with a manually or pneumatically operated hinge type cover, covering only the top of the machine.

Sound Protection Cabin - A sound protection cabin with a complete enclosure and manually openable top and sides
Auto Loader
Bin type loader required for transfer of parts from customer bins into the machine. The loader can be customised for component bins used by customers. Efficient, Easy loading & unloading of parts without damage, Heavy Duty and Economical.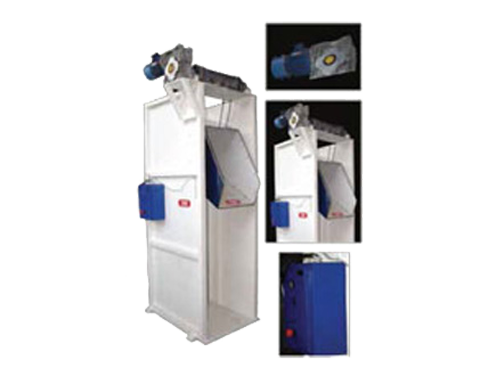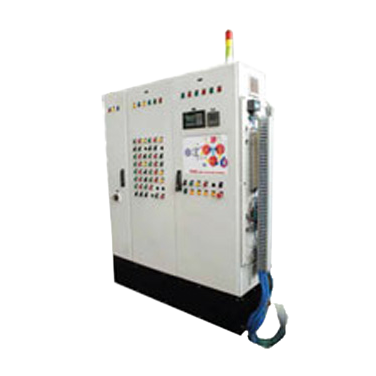 PLC Control Panel
A full automation of the system can be done with PLC Control panel where manual intervention is not required. The panel works with touch screen or line display and has HMI with feather touch buttons.
Magnetic Separator
Generally used for Separation from media of ferrous components having similar size. These can be separated magnetically. Magnetic separator can have a inbuilt demagnetiser and in some cases can be used to convey components to the next machine /dryer.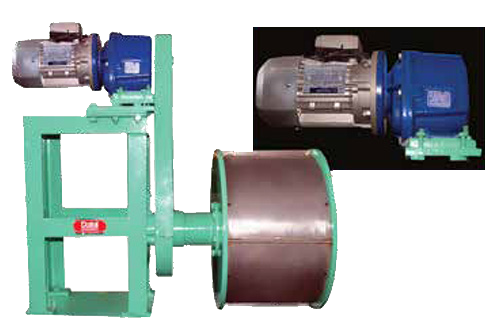 Simple Control Panel
With starter and timers as required. Upon request it is possible for install a variable speed drive to control the RPM of the vibrating motor.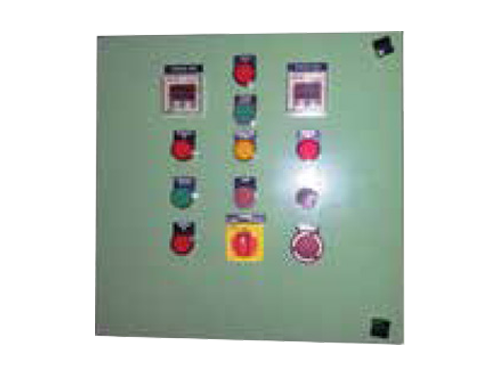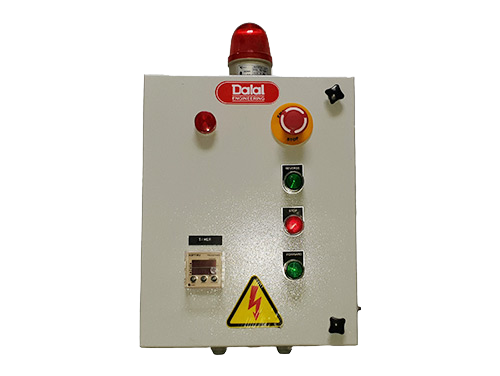 Dosing Unit
Dosing of right quantity of water and compound is necessary for successful surface finishing.The controlled flow of chemical and water is done with dosing pump and rotameter housed in a mild steel cabinet. Dosing unit can be integrated with an automatic system with the help of PLC.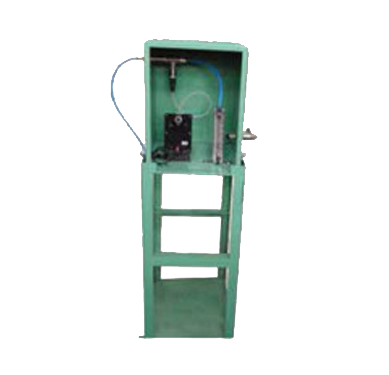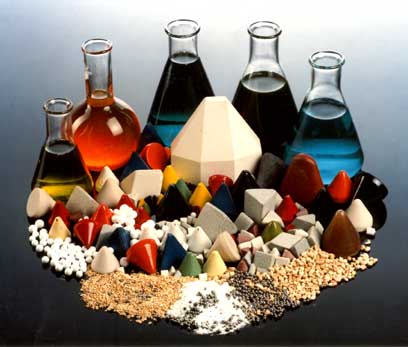 Media & Chemicals
Correct choice of media and chemicals is critical to proper surface finishing. Dalal Engineering has a partnership with Sharmic Engineering of UK for processes. This helps Dalal to develop specialized formulations to meet specific industries and metallurgies. A highly advanced R & D lab decides on the selection of media and chemicals based on the type of material and its geometry. Different types and grades of media ranging from ceramic, plastic, steel, glass to corncobs etc, each with varying abrasive strengths are available. These may be used in combination with highly developed chemical formulations which contribute to the deburring and polishing process, keep parts and media clean, prevent media impingement and assist in achieving the desired finish.
Repair & Reconditioning
Introduction
Our machines are sturdy and built to last. With proper care and maintenance, they are technically capable of a long life. With our commitment to provide total solutions, the Dalal team undertakes all types of services related to complete Repairs and Relining of equipment. The aim is to make the machines last as long as possible, and we do not recommend purchase of new machines unless absolutely necessary. What's more, we provide repairs and reconditioning services even in the case of finishing machines that have not been manufactured by us.

Trial Facility
To provide a complete process solution, finishing process needs to be developed.

This all starts at our R & D Lab at Thane

Here we determine the best finishing process.

We have various machines for trials such as:

Vibratory Finishing Machine
Disc Finishing Machine (WET & DRY)
Centrifugal Finishing Machine
Vibratory Dryer Machine
Centrifugal Dryer Machine
Rapid Finishing Machine
Magnetic Finishing Machine
Tub Vibrator Finishing Machine.
Rapid Ball Burnishing Machine.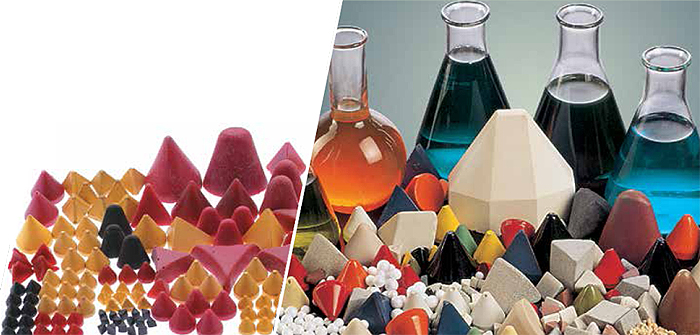 We also have a wide range of Ceramic, Plastic, Steel, Walnut, Corncob media and over 60-75 different chemicals & pastes.
Case Studies
1. Casting
For removal of casting imperfection a reputed valve manufacturer was doing finishing manually with 5 persons to achieve the desired production.
The production cost was high there was in finish quality.
Vibratory Finishing was introduced and the processing cost was reduced by 100% and the finish obtained is consistent.


2. Plastic Part
A Polymer Auto Component machine was employing 4 persons for cleaning the components. By installing a Vibratory Finishing the manpower was reduced to 1 person, saving of 3% and consistent result obtained with increased production of 150%.


3. Bearing
A roller manufacturing company was dependent on skilled labour for lapping / buffing of rollers with the help of finishing machine the process time was reduced to 1/3rd , the process cost reduced significantly and machine operated by unskilled labour.


4. Gear
One of the largest Gear manufacturing companies adopted a finished process for Ra value improvement of Gear teeth after grinding. We developed a special process for Ra value improvement upto 25% from the input value.


5. Aircraft
A world renowned aircraft engine manufacturer, decided to source components from India. The Indian company approached us for finishing of very high precision, special alloy critical components, as finishing these manually was not possible we developed a process and supplied finishing machine to improve Ra, achieve deburring with excellent polish.


6. SS Parts
Barber Razor blade manufacturer was manually polishing SS Barber razor's and after polishing had to do additional process of cleaning the buffing dirt.

We developed a finishing process to eliminate buffing and post cleaning thus, achieving a huge cost reduction with double the productivity and consistent finish.


7. Auto Industries
A reputed brake lever manufacturer were brake the levers for high gloss finishing on installing a special ball burnishing machine the manual buffing was eliminated with a good finish in the recessed area's 6 persons from the buffing section were reduced.


E - Brochure: Dalal Finishing Machinery